The Fiery Cross is the fifth book in the Outlander Series by Diana Gabaldon. The novel takes place in the colony of North Carolina, from late 1770 to late 1772.
Plot Summary
The story begins where Drums of Autumn left off – Claire and Jamie Fraser attend the Gathering at Mount Helicon, in the colony of North Carolina, while their daughter, Brianna, prepares for her wedding to Roger MacKenzie, and the baptism of their son, Jeremiah. Things gang agley, naturally, but after a very long day indeed, young Jem is baptized and Roger and Bree are finally married, and the residents of Fraser's Ridge return home, though Jamie with a letter from the Governor instructing him to build up a militia. He does, at that, and leads his men off on their duty to enforce the King's law, but Jamie and Claire become sidetracked by a visit to the Beardsley homestead, where they find a man in dire straits along with his most peculiar wife. After resolving this disturbing encounter, the militia returns home, having been released by word from the Governor before any real battle can take place, and they return home once again.
In the spring, the Frasers and the MacKenzies travel down to River Run to attend the wedding of Jocasta Cameron to Duncan Innes, and here follow several threads of intrigue: a missing bridegroom, a slave found drugged and unconscious in the bushes, an annoyingly persistent Mr. Wylie, one Major Donald MacDonald, a sort of freelance British soldier, keen on meeting with Jamie, and several guests butting heads in favor of and against those that style themselves "Regulators". In the end, the marriage takes place, but a slave ends up dead, and Claire suspects murder. In the course of her investigation, she and Jamie have a brief encounter with Stephen Bonnet, and spend a night questioning Phillip Wylie, who was seen apparently accompanying the notorious smuggler. They also learn a long-held secret from Jocasta, who knows just what a band of burglars might mean when they demand to know where the "Frenchman's gold" is.
A few short months later, the militia is summoned once again into service as tensions rise between the government and the Regulators. These climax in the Battle of Alamance, where Roger finds himself in the wrong place at the wrong time. The small rebellion is put down, but at great cost to the MacKenzie family, and to Roger's health and spirit.
The families return to the Ridge to heal, though they aren't left in peace for long – not least for a terrifying lightning storm and forest fire, amidst rumors of a man-killing ghost-bear in a nearby Indian village, or recurring word of Stephen Bonnet's whereabouts, which Jamie has tracked for countless months. Roger insists that Jamie teach him to fight, intimating his desire to kill Bonnet himself, and Jamie agrees to help him, though with a certain amount of doubt regarding the wisdom of doing so. On a hunting trip, Jamie finds himself bitten by a venomous snake, with none of the hunting party but Roger to wait with him through the night before they can get help. The experience – which Jamie survives, though it's a near thing – leaves the men with a deeper understanding and appreciation of one another, while a frightening appearance by their erstwhile prey startles everyone at the Big House.
While Jamie recovers, Roger arranges for a few new tenants to settle on the Ridge – one Thomas Christie, a man who had been imprisoned with Jamie at Ardsmuir, and his son and daughter. Meanwhile, Claire discovers an intriguing entry in Dr. Rawlings' medical journal – his treatment of Hector Cameron, and his wife, Jocasta, several years before – and Jamie arranges a convoluted planned meeting with Stephen Bonnet. They travel to Wilmington, where the women and children stay while Roger and Jamie go to meet Bonnet at Wylie's Landing. Things do not go as planned, and Claire, Brianna, and Marsali, along with Jemmy, Germain, and wee Joan, endure a dangerous encounter with Bonnet, while Jamie and Roger fight for their lives against two long-suspected, now confirmed foes.
Fearing for the safety of the inhabitants of River Run, Jamie and Claire go there while the young families return to the safety of the Ridge. There, they find that a man has been killed, and Jocasta is forced to fill in the blanks left in her earlier story of the Frenchman's gold. With no notion whether Stephen Bonnet still lives, they return home at last, resuming the usual homely chores of life on a farm. It is while Jamie and Roger are at work on the land that they find themselves under attack by a wild boar, only to be saved by the timely return of Young Ian, home at last from his exile with the Mohawk. He brings with him the writings of the late Robert Springer, also known as Otter-Tooth, and in the course of deciphering his Latin-encoded script, they learn more about the time traveling phenomenon, and speculate about Jemmy's ability. At the last, Roger pledges that he and his family will stay on the Ridge – that they will stand by Jamie and Claire, as conflict and war draw inexorably closer.
Timeline of Significant Events
1770
October 1770
At the Gathering at Mount Helicon, Lieutenant Archibald Hayes reads a proclamation from Governor William Tryon in regards to the search for any person involved in the Hillsborough riot the month prior. He also seeks out Jamie Fraser to deliver notice from Governor Tryon, with orders to form a militia.
Robin McGillivray and Geordie Chisholm, two of Jamie's Ardsmuir men, and their families agree to come settle at Fraser's Ridge.
With Tryon's order for a militia in mind, Jamie hires Arch Bug as factor and his wife as housekeeper, ensuring the Ridge will be looked after in his absence. He also strikes a deal with Josiah Beardsley, who would be too young to join the militia but could hunt and help feed the residents of the Ridge through the winter.
Jocasta Cameron offends Roger with her insinuation that, by her bequeathing her wealth to Jem, Roger would be encouraged to care for the boy, and tells Jocasta that neither he, his wife nor their son want her money.
Father Kenneth, the Catholic priest who was supposed to perform the wedding ceremony for Brianna and Roger as well as Jocasta and Duncan Innes, is arrested. Jamie manages to have the priest secretly christen his three grandchildren.
Brianna and Roger finally get married, though by a Protestant minister; Jocasta and Duncan choose to delay their nuptials until a Catholic ceremony can be properly arranged.
During the calling of the clans, Jamie makes a speech about the past, present, and future of their collective lot, summoning Claire, Roger, and the men of the Ridge to him before declaring the presence of the Frasers of the Ridge.
November 1770
Jamie gives Claire a gray kitten which they name Adso, after a cat his mother had when he was a boy.
Jamie receives a letter from Governor Tryon stating that his militia is to join his regiment no later than December 15th in Salisbury.
Jamie, following an old tradition of the Highlands, builds a cross which is then burned during the gathering of his militia. He tells Claire how he remembered seeing the fiery cross only once while at Castle Leoch, when Dougal lit the cross as War Chief of the clan.
December 1770
Fraser's militia sets out from Fraser's Ridge, with nearly 40 men and Claire. During their travels, the militia encounters Josiah Beardsley, and discover that he has an identical twin who is deaf.
Roger and the rest of the militia are sent on to Brownsville to recruit more men, while Jamie and Claire head to Beardsley's Trading Post. There they find Fanny Beardsley and her husband Aaron Beardsley, who is injured and has suffered a stroke. After a harrowing experience there, the Frasers leave the trading post with Fanny Beardsley, who disappears in the middle of the night, leaving behind her newborn daughter.
Roger and Fergus arrive in Brownsville and are immediately fired upon by the resident Browns, who want to kill Isaiah Morton, a member of the militia, for dishonoring Alicia Brown.
A notice is received from Governor Tryon that the militia has been disbanded, and the Frasers return home. Morton learns that Alicia is pregnant with his child and, despite already being married, elopes with her in the middle of the night.
1771
January 1771: At Hogmanay, the Beardsley twins arrive at Fraser's Ridge just as Jo had promised. Claire, as agreed, performs tonsillectomies on them and uses her first batch of penicillin in their aftercare.
March 1771
The Frasers and MacKenzies attend Jocasta's wedding to Duncan Innes at River Run.
Major Donald MacDonald is introduced to Claire and asks if her husband, Jamie Fraser, could get him an introduction to Governor Tryon.
Phillip Wylie attempts to seduce Claire in the stables, but she rebuffs his advances, injuring his pride in the process.
Brianna and Jamie find a house slave named Betty, Phaedre's mother, drunk under the bushes. However, upon further investigation they discover she was drugged with laudanum.
Duncan Innes confides in Jamie about an accident when he was a young man that resulted in his impotence. At Jamie's request, Claire speaks with Jocasta on the subject to determine if she still wishes to get married. Jocasta makes no demur about Duncan's condition, and they are finally married.
Later in the evening, Wylie baits Jamie into a high stakes card game. Jamie asks to use Claire's gold wedding band from Frank as stakes. Claire, furious, gives him both of her wedding rings. Jamie wins the game, keeping both rings safe and winning Wylie's prized Friesian stallion named Lucas.
Betty is discovered to have died. Suspecting foul play, Claire and Jamie go out to the shed to perform an autopsy, during which they are interrupted by Phillip Wylie. His appearance concerns them, but they are much more alarmed to see Stephen Bonnet. Both men run and Jamie chases after them, only catching Wylie with Roger's help. Bonnet manages to escape by stealing Lucas.
Inside the house, Jocasta and Duncan have been attacked by two men. Clearing her room of everyone except family, Jocasta describes one man reeking of drink who did not speak, and another who spoke with an Irish accent and demanded she tell him where to find the gold that King Louis XV had sent, too late, to aid Charles Stuart and his rebellion.
Roger and Jamie interrogate Wylie, believing that he was Bonnet's accomplice. However, they determine he was not involved in the attack on Jocasta and Duncan, and they let him go.
Reviewing all of the evidence, Jamie, Claire, Roger, Brianna, Jocasta, Duncan and Ulysses determine that Lieutenant Wolff, a scorned suitor of Jocasta's, had intended to kill Duncan, and only had to silence Betty by killing her after she drank the drugged wine. They also suspect that he was the silent second man that attacked Duncan and Jocasta.
While returning to Fraser's Ridge, Major MacDonald brings Jamie a letter from Governor Tryon. The letter has new orders for Fraser's militia, stating they will be called upon before April 20.
April 1771: Jamie's militia, calling themselves Fraser's Company, sets out to meet the rest of the regiment.
May 1771
During the Battle of Alamance, Roger crosses the enemy line and attempts to reason with Jamie's Quaker friend Hermon Husband. After their talk, Husband tries to encourage the other Regulators to find a nonviolent resolution.
After Roger leaves the enemy camp, he encounters Morag MacKenzie and tries to warn her of the imminent violence. Moved by his distant kinship with her, he chastely kisses her. Morag's husband, Buck, violently objects and turns Roger over to the North Carolina Provincial Militia, claiming that Roger was one of the Regulators. Roger is wrongfully hanged and barely escapes alive, his voice permanently damaged.
During the fighting, the Brown brothers shoot Isaiah Morton in the back; however, Claire is able to save his life.
June 1771: Jamie reviews the accounts, and discusses the possibility of selling another gemstone with Claire.
August 1771
A package arrives at the Ridge containing an astrolabe, courtesy of Lord John Grey via his stepson, William Ransom.
Jemmy makes a mess of Claire's surgery, and Claire and Brianna talk.
Brianna dreads seeing Obadiah Henderson after conducting school lessons for the Ridge children. With Roger's frequent absences, Brianna turns to Jamie for advice about how to deal with Obadiah.
Jamie asks Roger to survey Jamie's land using the astrolabe
Peter Bewlie and his Cherokee brother-in-law seek Jamie's help in dispatching a "ghost bear" that has been terrorizing their village. A lightning storm strikes the Cherokee village during the hunt, and a wildfire spreads through the backcountry where Roger is conducting his surveying mission. Roger encounters a group of escaped slaves, and among them is Fanny Beardsley, who had abandoned her newborn daughter to Jamie and Claire's care the previous winter.
October 1771
Roger returns from surveying; Jamie and Claire discuss mortality and the future in the glow from the hearth.
Brianna has a nightmare about Stephen Bonnet kidnapping Jemmy.
Roger asks Jamie to teach him how to fight.
November 1771
In late November, Jamie is bitten by a venomous snake during a buffalo hunt. Jamie confides in Roger important information that, in the event of Jamie's death, would help the family survive. In the morning, Fergus helps Roger get Jamie back to Claire for medical attention.
Brianna strikes the wounded buffalo with an ax when it wanders into the paddock near Jem; Claire cuts its throat with a saw.
Brianna engineers a makeshift syringe from the tooth of a large rattlesnake, enabling Claire to inject penicillin into Jamie to help fight off infection and the effects of the venom.
While Jamie is on the mend, Roger welcomes Thomas Christie, a former inmate of Ardsmuir Prison and a Freemason, his son Allan, and daughter Malva to Fraser's Ridge. Tom agrees to be schoolmaster five months a year for the children of the Ridge.
1772
April 1772
After traveling down from the mountains, the Frasers go to Wilmington so that Jamie and Roger can rendezvous with Stephen Bonnet and kill him. The plan goes sideways, however, and they are waylaid by David Anstruther and Randall Lillywhite at Wylie's Landing, with the complication of a family of Russian swineherds.
Back in Wilmington, Claire, Bree, and Marsali take the children to gather myrtles and are approached by Stephen Bonnet, who tries to take Jemmy – based on Brianna's admission two years before that Bonnet had fathered her child – and Brianna with him. Brianna shoots Bonnet in the groin and he escapes, wounded.
May 1772: After finding out that Roger read her dream diary, Brianna asks Roger to tell her about one of his dreams.
July 1772: Claire writes about the death of Rosamund Lindsay in her casebook, debating with herself as to the wisdom of writing truthfully about Rosamund's anaphylaxis.
September 1772: Claire wakes in the summer night and hears Roger singing to Jemmy; Jamie joins her and recalls Lawrence Stern telling him about zugunruhe, or restlessness – an uneasiness before a long journey.
October 1772
Ian returns from the Mohawk to Fraser's Ridge. He doesn't offer any details about his return, or his Mohawk family. He brings a gift for Claire from Tewaktenyonh: the diary of "Otter-Tooth," previously known as Robert Springer. Claire, Brianna and Roger admit to Ian that they are all from the future.
Jemmy explodes an opal by holding it, suggesting he may have the time-traveling trait.
Trivia
"Oh My Darling, Clementine" is mentioned several times throughout the novel, usually in the context of Brianna or Roger singing it.
Book Covers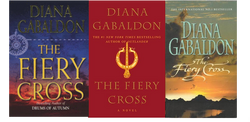 Maps
External Resources
Point of view guide – A chapter-by-chapter breakdown of character points of view. Includes dates for chapters when noted.
References
See also
Community content is available under
CC-BY-SA
unless otherwise noted.